After one week of China it was time to change the scenery and go to Hong Kong for 2 days. We arrived in Hong Kong on Saturday evening and most of the people had a bright smile on their face. No hot pots, no chicken feet – finally more western food again.
After a night out on Saturday in lan kwai fong it was time to do some sightseeing on Sunday. Most of us went up to the victoria peak and enjoyed the impressive skyline of Hong Kong.
As we are not only in Hong Kong for pleasure, we met at 0900 on Monday to visit Credit Suisse and KPMG. The Cedit Suisse offices are located in Kowloon in the ICC building. Located on the 88th floor we had the presentations with beautiful views of Hong Kong and the harbour. Mrs Bergqvist organized the event and invited guest speakers that spoke about various topics. Those included the liberalization of the chinese capital market, change in labour and domestic bond market.
Key points were that China has a huge potential and is slowly opening up the market and Credit Suisse tries to take advantage of that. Also there is a change in labour. China used to provide cheap labour where as now, cheap and educated engineers are available. In 2016 only, 1.4 million chinese people graduated. (Bsc, Msc or PHD)
After having lunch at the shopping mall we continued our day with a visit at the KPMG office in central Hong Kong. In a short time, we had 4 presentations about various topics. Most interesting presentations were the virtual banking and the insights of symon and oliver about the expat life in Hong Kong.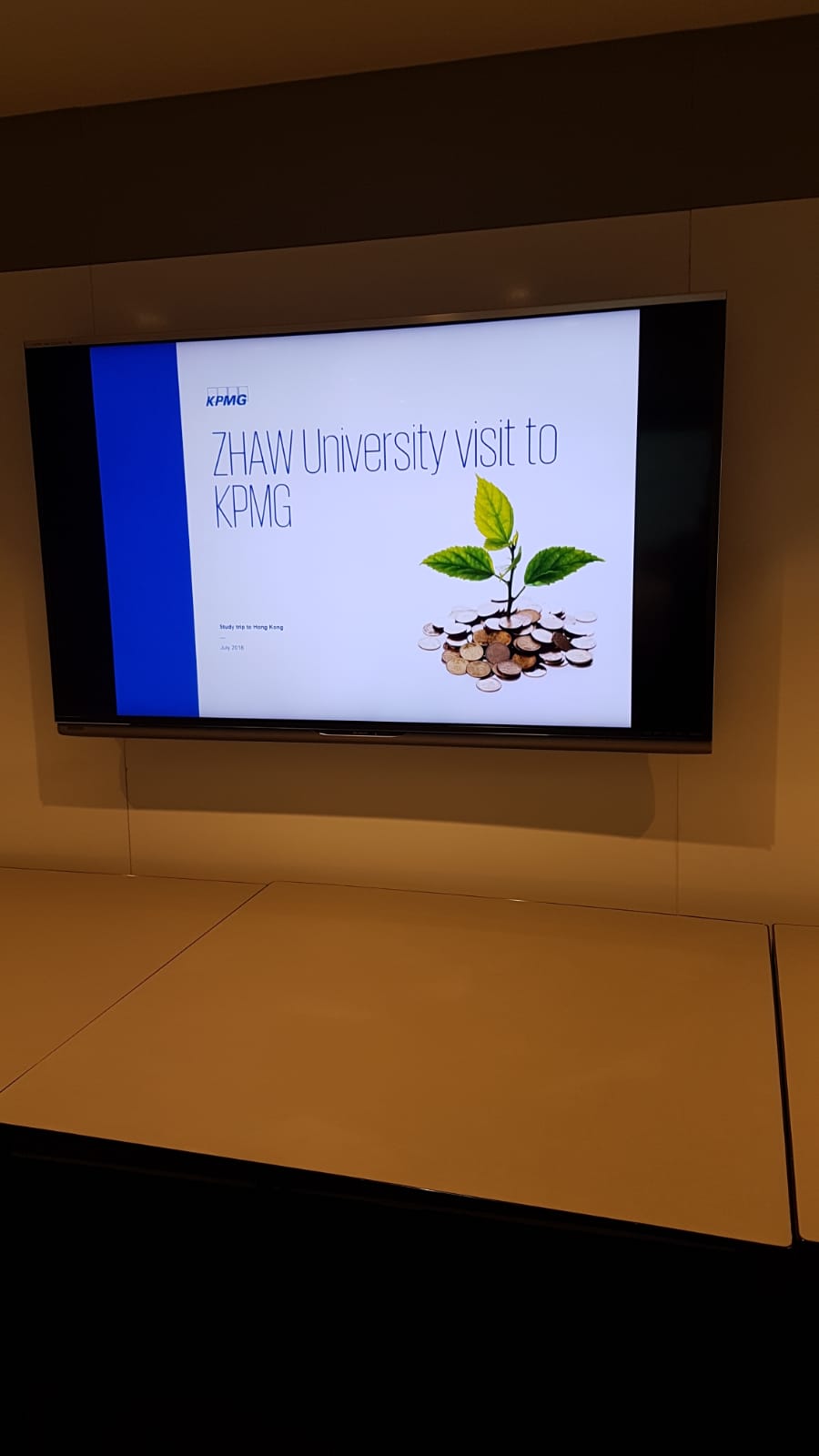 Hong Kong lacks behind China when it comes to digital payment. That's one of the reasons why the HKMA (Hong Kong Monetary Authority) started an application process and will issue 4 virtual banking licenses. KPMG estimates that around 81 firms are interested in the 4 licenses. However, it is not clear if all the interested firms will apply and go through the difficult application process.
Symon and Oliver wrapped up the session at KPMG. They gave us various and interesting insights about living and working in Hong Kong. Topics discussed where the rents, way of living in Hong Kong and the working culture.
All in all it was a very interesting day with valuable information.
Now it is time to take the speed ferry which brings us to the Las Vegas of Asia – Macau 🙂
Here some further impressions about Hong Kong and its gold fish market. – poor fish 🙁