Heading on a plane from the gulf area to Tehran, Iran, the authors of this last blog entry reflect on an unusual, fascinating and informative week in Doha. The experience was indescribable, we all gained insights into a new and fascinating world, so unknown and different, and yet oddly similar in certain aspects. We have to pleasure to write the blog entry for the last day of this amazing week; in our minds the best and simultaneously saddest day – we experienced a breathtaking safari and had to say goodbye to each other a few hours later. But let's go through the day more detailed:
We enjoyed a last breakfast in our beautiful hotel, Mike was feeling bad after having eating 5 burgers the previous day and opted for a small plate of fruits; the majority however enjoyed the voluptuous buffet provided each day in our hotel. Since the safari take off was scheduled for a quarter past two, most of us decided to sleep in, at least for a bit. Some of us stayed in the hotel and enjoyed the relaxing atmosphere in the Spa-area on the 26th floor; there were some more sportive members of our group who decided to visit the in-house gym, however, the author of these pages is not one of them and enjoyed the Jacuzzi instead.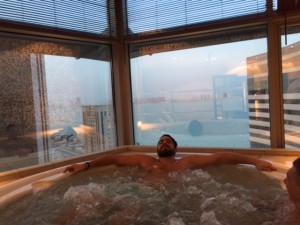 At quarter past two, we met up at the back entrance, where 6 Jeeps were ready to take us on an adventurous trip. Well, frankly, the first 45 minutes of our drive weren't that impressive. Once outside of Doha, we were driving south; all there was to see was sand. Some barracks, one or two oil-refineries and more sand. We arrived at our first stop, where we saw some more sand but also had the chance to ride camels for the rather steep fee of 20 Rials – steep since the ride lasted for roughly 2 minutes. Mr Dia-Eddine called it "ABZOCKEREI" (rip-off).
After having deflated the tires of our jeeps, the ride continued – or rather started properly. The next 30 minutes of our ride were unforgettable and quite honestly indescribable. Speeding over sand dunes while yelling of excitement is what we did the next half hour. Our jeeps took us across the desert up and down the dunes in a spectacular fashion. We stopped in the deep south of Qatar for pictures (a lot of new Facebook profile photos were shot that day). Even the Saudi-Arabian border was visible from our panoramic stop. The sun started to set and we continued our ride until we halted at south beach (literally south of Qatar). Directly at the beach, there was this resort, where we enjoyed cold or warm beverages, depending on taste preferences. The sunset itself, as stunning as it was, became secondary to some of us after having discovered a beach volleyball pitch, while other just relaxed at this beautiful spot. However, once the sun set, we started heading home. The ride back passed rather fast, stopping once for re-inflating our tires, we arrived back at the hotel at around 7-ish.
Dinner was on an individual basis, some went to the Souq Waqif for what felt like the 10th time, some to a very local restaurant outside of the center where the menu composed of hummus and falafel – you could chose from a variety of options (humus, falafel, humus with falafel, falafel with humus, humus and falafel mixed together – I think you get the gist), and some gourmands ordered McDonalds to their rooms. We met up at a quarter past ten and headed together to Traider Vic's, a bar which is part of the Hilton Hotel and the closest place to our hotel. There we enjoyed farewell drinks together (starting off with beer, but after having realized that Gin Tonic is actually cheaper, the order pattern quickly changed) and one after another member of our amazing group left until there was a small party left pulling through until last call. Saying goodbye was brutal, after having spent a week together, we felt inseparable, but we took solitude in the fact that we will see each other again in a bit more of a week.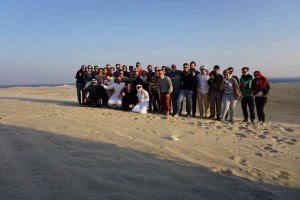 So this extremely serious and precise report is the last entry of our Qatar Study Trip Blog and we want to take the opportunity to thank the people enabling us to be part of this experience. First of all, thanks to Khaldoun Dia-Eddine, our professor of this module; a man who knows more about this region than all of us combined (this does not count for Deeran) and has an answer to every question. We also want to thank Maya Gadgil, we did not know her before the trip but won't forget her after this week (how could we?). Making sure we were on time was her top priority, and without her relentless efforts we wouldn't have made half of our appointments. We further want to thank Sarah from the Swiss Embassy for her work and organizational skills, making a lot of the events of the past week possible. A last thank you is for everyone involved in our study trip, ranging from the friendly hotel staff (especially Panda, you know who you are) to the members of the Swiss embassy in Qatar over to all the companies and NGO's we visited. Without you, this week wouldn't have been such a success.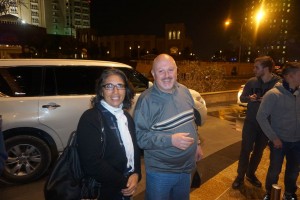 Cheers
David, Deeran, Ruben and Mikael