Arabian Night
Tonight our class was introduced to the local culture and the Islamic religion. In the historic center of Dubai, we learned how they build naturally air conditioned houses. During an Arabic coffee we were teached about the functions of the different rooms. In the mosque we learned more about the religion, the praying times, the Quran and could even listen to the prayers call (azan). A typical Arabic dinner was the last highlight of the day.
Tired, but inspired by the Islamic culture and business opportunities we headed back to the hotel.
Dubai – City of Gold
The view out of the hotel room changed completely from Riyadh to Dubai. The ultramodern host city impresses with its architecture, cosmopolitan culture and colorful dressed women
.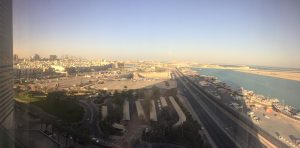 Armada distribution
Armada Distribution is responsible with filling up our minibar in the hotel with Evian water and Danone products. The company imports foreign premium brands like Evian, Halter, Piz Buin, Merci, Hershey's and others. They distribute the products within UAE to the retail, Coffees and Restaurants. It is an affiliate of the Lebanese Fattal Group.
The hands-on western style management with Malek Baajour, Daniel Khalil and Cherly Pereira impressed us not only with their distribution capabilities. They showed us their beautiful designed premises. We were surprised that the design and work was mostly done by their own staff. This team spirit is noticeable and gives credibility to their shared corporate values: be natural, honest, tasteful, passionate and generous. The open, multi culture and friendly work environment is something totally new after our Saudi Arabia trip. They also served us with a delicious Lebanese breakfast.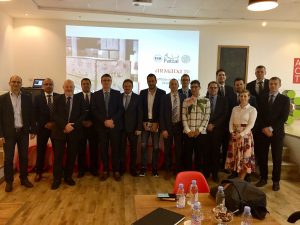 Al Mal Capital Bank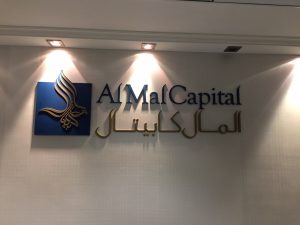 On the way to the Al Mal Capital Bank within the Dubai International Financial Center we enjoyed the golden skyline of Dubai.
Al Mal Capital is an investment bank for Corporate Advisory, Investment Management and Direct Investments for the MENA region. MENA stands for Middle East and Northern Africa. We were welcomed by the senior management who gave us a comprehensive overview about the business and economic environment. We learned that their financial figures are as overwhelming as Burj Khalifa. The GCC countries are in different stages of a transition from oil based to diversified economies. This opens up new investment opportunities in health care, education, services, infrastructure and logistics. It seems to be the investment place to be.
From big to small – from numbers to taste: Sandwich Express
The Swiss entrepreneurs Patrick Helfer and his wife Petra gave us first-hand insights into the difficulties making business as an SME. We were very impressed how many obstacles they successfully managed to overcome. Two years ago they decided going to Dubai. Since one year they run their own bakery. They had and have to deal with changing regulations and uncounted permissions as well as leading a staff of different origins. Despite all this difficulty they showed us great passion in what they are doing. Soon they open up the new business of kitchen rentals for food truck and move to a new premise. We thank them for their warm welcome, the delicious food and wish them good luck and thrive.