After three days in Beijing, it was time for us to move on and explore more of this exciting country. Just as we were getting ready to leave for the railway station the air started to get darker and coarser – the famous Beijing Smog that we have rarely encountered during the previous days seemed to be coming back. Or as our tour guide Eric put it: "When you were coming to Beijing the sky was washed clear and blue by the rain and now that you are leaving it turns gray with smog again – so come back soon!".
The newly built high-speed rail network between Beijing and Shanghai reduced the travel time between those cities from 10 to 5 hours. Our train was racing through the country with a top speed of 350 km/h. While some took a nap and recovered from previous days and nights others enjoyed the diversified landscape that our 1318 km drive right through mainland China had to offer.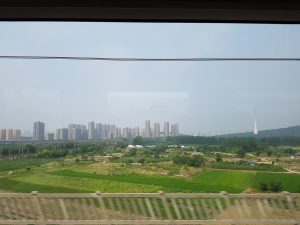 We arrived at noon in Shanghai at one of the biggest railway station in Asia. After meeting our new guide Issac and a quick lunch break at the station we were already on our way to the next company visit at Autoneum. Sadly we had to realize that our new bus driver was not as qualified and gentle as our previous one in Beijing as he was driving at top speed through several bumpy sections of the road. Still, we arrived as one piece at the local factory of Autoneum in Shanghai. Autoneum is the global market and technology leader in acoustic and thermal management solution for vehicles. The company was founded 2011 in Switzerland as a spin-off of Rieter Holding AG. The Autoneum Group holds several strategically placed factories all around the world – in Asia, Autoneum currently employs around 1900 employees. The factory we were visiting in Shanghai was relatively new and regularly expanded and updated on a yearly basis. After a short presentation, we were guided through all relevant process steps that were executed in the four factory building on the plant by the Product Manager.
Here we were getting our first taste of the manufacturing industry in China. It was interesting to witness the manufacturing process from raw material to finished goods first hand. We appreciated that Autoneum provided us the opportunity to experience how international companies do business in Asia.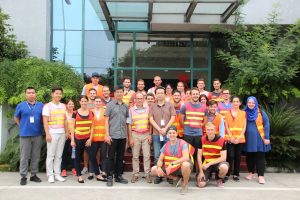 After leaving the factory we were driving right to the hotel in the middle of Shanghai – the Bund Riverside Hotel. After Check-In most of us were swarming out to explore the surrounding area. Later we all met again in the hotel lobby to go for a drink at the famous Bar Rouge with a beautiful view of the modern skyline of Shanghai.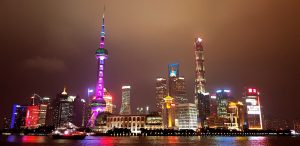 Group Shanghai
André Birri, Floriane Bopp, Sergio Galli, Philemon Gschwend, Richard Lauper