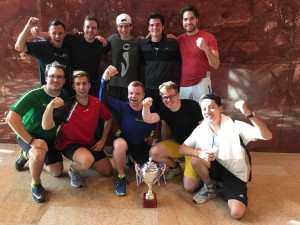 Healthy wishes to all on Qatar's National Sports Day!
Today was the National Sports Day, a national holiday in Qatar, held annually on the second Tuesday in February, with the main objective of promoting a healthy lifestyle among its population. A day on which the whole population is requested by the Emir to do some sports. So we did…
Celebrating this day, some of the class went to Katara Beach where institutions and companies organised various activities such as rugby, beach soccer, volley ball, cross-fit or dragon boat races along the beach to take part in. Especially, kids boxing fights were funny to watch.
Windy weather aside, some of us actually tried to compete against locals in volley ball, rugby, joined in the cross-fit challenge or tried to do some yoga. Others just enjoyed the sun tanning on the long-chairs, thereby recovering from past strains.
Towards the evening, a small but very courageous group of people started to jog back to the hotel in order to exercise and circumvent the traffic due to some roads closures. Enjoying the beautiful tracks full of road works and the fresh air along the high way, we were heading back to the hotel.
Another group after heaving a look at the Katara Beach decided to go to the education center where there were many organised activities as well. Upon arrival, they met Amina, who held a presentation in the first day at the University. She was so kind to show them around and made sure they could participate at a football tournament. Before the tournament, they went around met students and were offered some lunch by Amina. They were very thankful for her hospitality and were impressed by the friendliness of hosts and students. They enjoyed playing soccer and learned a lot about the local culture.
Towards the evening we headed towards the sea in order to enjoy a trip via dragon boat to Souq Waqef, an old part of the town where many enjoyed fabulous dinners.