After a short night, we started with the most relaxing part of the fieldtrip: The Halong Bay Cruise. But before we could embark the Emeraude Cruise ship, a 5 hour bus ride had to be faced. A short stop at a pearl farm gave us an idea of how pearls can be bred and how expensive pearl jewelry can be.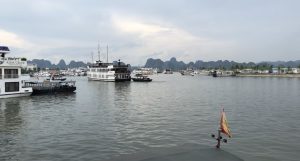 A short while later, we embarked the cruise ship and the captain raised the anchor. While we ate Vietnamese spring rolls and enjoyed the delightful local cuisine for lunch, the ship sailed past the countless islands of the Ha Long Bay. Breathtaking!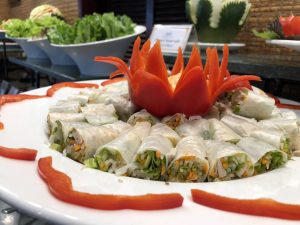 In the late afternoon, we were ready for some action. The whole group paddled with kayaks through the Ha Long Bay until there was no muscle power left. Fortunately, everyone managed to find their way back to the ship to enjoy french crepes and refreshing drinks on the sun deck.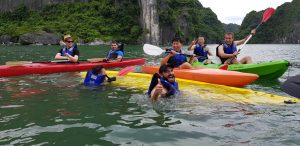 After a delicious dinner, it was time to watch the sunset and enjoy the evening. While drinking a cocktail, we discussed the highlights of the past days and recalled the trip we had taken so far.