The second day in Hanoi started early at 8.00 am and was strictly planned with three visits. But at least we got a bit used to the motorbikes. To the first visit we went due an invitation from the Vietnam Trade Promotion Agency (VIETRADE), which is a governmental organization of Vietnam.
Because the meeting room they arranged for us was on the fifth floor, we took the elevator to get there. But not all reached the top. Nine of us were stuck in the elevator and had to be freed by the security guards. We had to learn this way that "Max. 9 people", maximale 9 vietnamese people were meant!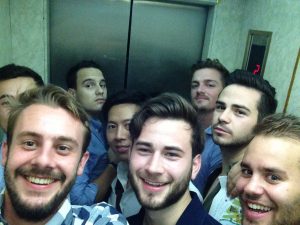 After this "small accident" we had the pleasure to listen to two really interesting presentations about the economy in Vietnam and what VIETRADE does. They do a lot of activities to assist Vietnamese and foreign enterprises in their business development and expansion in Vietnam. One of the founder of VIETRADE Mr. Alain Chevalier, a native-born Swiss with a Swiss watch, showed that since the foundation in July 2000 the exports in Vietnam have been raised in a huge amount.
After one and an half hour we had to leave VIETRADE due to our tight schedule as mentioned before.
At 11 pm the company Habeco welcomed us at their conference room. The meeting was less a conference because we didn't listen to presentations nor a speech, but were shown a selfmade movie about Habeco, Hanoi Beer Alcohol and Beverage Joint Stock Corporation. After that, we were directed to the production of the beer to have an inside view. It was very impressive because Habeco is the third largest beer company in Vietnam and has a strategic partnership with Carlsberg Group. 15 minutes before we had to go, Habeco kindly invited us to a beer. And because we did not want to ruin the hospitality, we could not say no and enjoyed the "Hanoi Beer".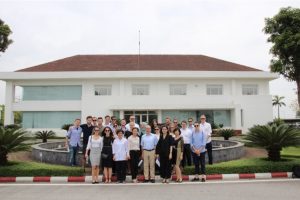 After an hour at the factory, the last but not least visit to a company in this Field Trip was waiting for us. The Sofitel Legend Metropole, which is a Luxushotel, build in neoclassical colonial style, welcomed us with lunch. Especially I would like to thank Ms. Hang Pham for the whole coordination until the last minute. After lunch we could have an inside view of the most exclusive suits Sofitel has. And finally, Mr. Anthony told us about all the challenges and his personal experiences the hotel business brings with it.
After the three successful and interesting visits, the students had free time to explore the wonderful and cultural city Hanoi. At the end we had dinner all together and enjoyed once again the company of each other and said goodbye to Philemon, Floriane and Richard and wishing them all the best, because they were not coming with us to Halong Bay.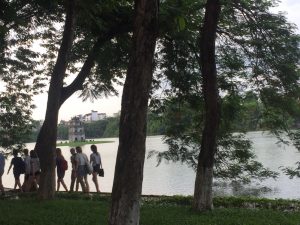 "MJ out!"
Group Hanoi:
Beqiraj Naxhije, Egli Andrea, Huruglica Mejreme, Lapanashvili Mariam, Schneider Thomas