Motorbikes, motorbikes, motorbikes… Whereever you look.. motorbikes. We arrived on wednesday late afternoon in the Vietnamise capital Hanoi, a city which populates 7 mio people and 5 mio motorbikes. Except one of our mates, who lost his passport somewhere in HongKong's airport, all of us could finally leave the impressive People's Republic of China and enter the south-east asian world in Vietnam. Quickly, it was realized that the country here is very different to China. Everyone could feel the warm welcome of a charming city. Not only the streets, buildings and landscapes look different, but also the people behave in another, more open and warm, way. It is not only the "make money" and "produce" and "GDP-growth" as it was in China. After checking in at the very central located Hotel, we could enjoy an amazing dinner on a rooftop with view over the Hoan-Kiem-Lake.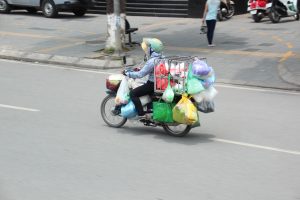 On day 12, we once more had to learn "It's the early bird that catches the worm". After meeting at 7.30 we drove to the renomated FPT University of Hanoi. Next to providing educational services, the FPT Corporation is active with IT-services, telecommunication and technology retail. The FPT University of Hanoi is famous for its IT education, however we were going to meet economy students with majors in marketing and finance. Arriving at the campus we learned that every room provides space for at least one tree. With this measure, the FPT University could already earn certificates for beeing sustainable. During our visit we were pleased to be a part of the local students daily life and could enjoy a very interesting presentation about Vietnam's economy. To mention is that a Vietnamese economy teacher likes to compare his country to Singapore and Japan. From a Vietnamese' point of view, the gap to those economically strong nations doesn't seem to big.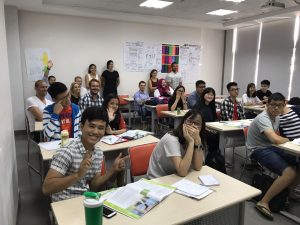 A Swiss contribution followed the Vietnamese presentation. Mr. Braun and two students delivered an excellent presenation about the ZHAW and Switzerland with its culture, economy and so on. When waiting for questions from Vietnamese students, only one student asked the Swiss "boys" to provide their Facebook details to the Vietnamese female students. After that, a nice exchange in small groups of Vietnamese and Swiss students was held, where we learned something about the daily life, the ambitions and, of course, the Facebook details of a student in Vietnam. All in all, it was very exciting to get an insight into studying in this country. The rest of the day was free, which most of us used for a relaxing massage somewhere in the old quarter of Hanoi.
P.S. The student, who was left behind in Hong Kong, eventually found his passport and could rejoin the group in Hanoi.
Author of this entry: Thomas Schneider