Our first day started with an early waking up in order to catch the shuttle to the great wall. This was a wise decision because our arrival at Mu Tian Yu at 7.15 am let us enter the cabel car as the first group and we enjoyed the wall without the usual crowd. The walk on the 8000 km long wall was simply impressive. Perfect weather conditions and almost no haze let us xxx. The Mu Tian Yu section is known because its building quality and its dimension. However, the section of Mu Tian Yu is only a little part of the 21`000 km long wall which goes through 15 provinces.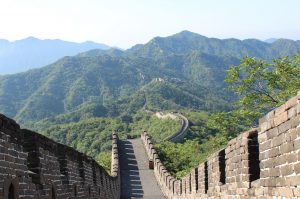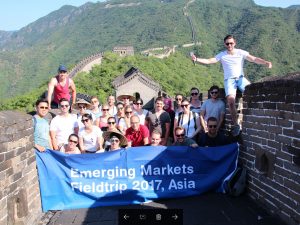 After a short lunchbreak at the park entrance the bus brought us back to the city centre of Beijing.
We continued our sightseeing tour at the Tiananmen square. This place became sadly famous as the student massacre in 1989. In honour of the death of the many thousand students we wanted to take a picture with the ZHAW banner. We already took the photo when a soldier came and angrily ordered to delete the pictures.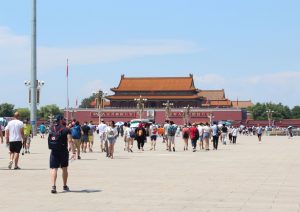 After this incident our guide Eric brought us the entrance of the Forbidden City. The Forbidden City was the Chinese imperial palace of the Ming und Qing dynasties. The world`s largest palace complex impressed us with its detailed craftmanship.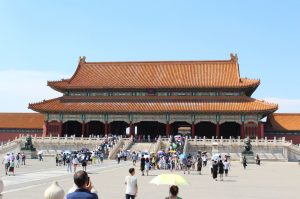 To end the day we went to a traditional Chinese barbeque restaurant where the house speciality is lamb haunch. The food was delicious and even the 5 power blackouts couldn`t stop the good atmosphere.