Also the 4th day started with a briefing in the hotel lobby. As first, in the morning we visited the Centre for Financial Reporting Reform (CFRR) of the World Bank. CFRR provides knowledge, convening and capacity development services in support of financial reporting reform, institutional strengthening and the dissemination of good practice in the area of financial reporting and auditing. They work together with countries in Europe and Central Asia and support them to adopt and implement high-quality financial reporting standards. Further information here.
Jerry Decker, Head of CFRR, welcomed us on the 19th floor of the Galaxy 21 office building, which has a beautiful view.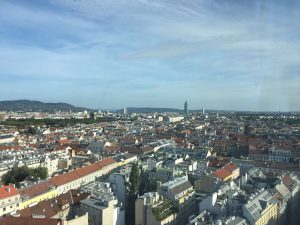 He informed us that their department CFRR has a longstanding relationship with Switzerland as Switzerland is one of the major donors. In 2006 the EU issued a mandate to upgrade the accounting, auditing and financial systems of its member states. But the countries didn't get any help to implement these new regulations. John Hegarty noticed this and founded the CFRR to help the countries to implement the new EU regulations. Austria offered to provide free office space for this new centre and gave initial funding to develop the programmes.
CFRRs goal is to create wealthy and functioning market economies in countries in Europe and Central Asia through financial transparency and reporting. The people need to understand the value of financial accounting as this kind of reporting is needed for tax issues, statistics, to attract more investors etc. The World Bank has a lot of different projects. CFRR is partof it and a special institute as it has a long-term view and is funded entirely by donors.
After this introduction Andrej Busuioc, PhD, Senior Financial Management Specialist, gave us a general overview of CFRRs activities geographical coverage and areas.
CFRR employees are technical experts for every area needed. They are active on three different levels to foster high quality reporting:
Assessment of university curricula to help improve accounting professions, (e.g. training-of-trainers programs, benchmarking of accounting curricula).
Ensuring compliance: it is important, that someone checks accounting statements and auditing documents and that the auditors are overseen by an authority.
Setting reporting requirements (e.g. EU acquis guide, policy advice on audit reform).
Alfred Borgonovo, Senior Financial Management Specialist, informed us about a reform project in Serbia. He showed us the process of such a project. The results can be downloaded here.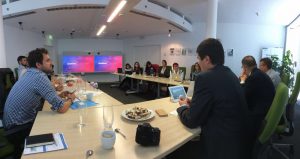 After these inputs Lada Strelkova, Operations Advisor, gave us a general overview of the World Bank. The World Bank has 180 member states and is divided in five departments (IBRD, IDA…). In Vienna they represent two departments. They distinguish Part 1 countries, which provide funds and part 2 countries which borrow loans. Most programmes are located in part 2 countries in order to be with the clients. Therefore, the Vienna office is an exception and they have very unique programmes.
Furthermore, she explained that they have several mechanisms to avoid problems with the loans e.g. in case of corruption and they monitor everything (also environmental and social issues etc.).
After the lunch break we were invited to the federal ministry of finance. SC Dipl. Kfm. Eduard Müller, MBA, informed us about the digitalisation ("Finanzamt 4.0") in the federal ministry of finance. He talked about today's challenges for the ministry of finance e.g. the complexity of the economy (globalization, digitalisation), clash of generation (digital and analogue) etc.
Daphne Aiglsperger gave an overview about customer service in their ministry. As there are a lot of regulations this is a difficult topic. The challenges are complex e.g. the rising number of regulations and laws, communication problems (the citizens don't understand the officialese), etc.
Today they already offer an e-service-portal for 7x24h service. Furthermore, they reduce the bureaucracy with the one-stop service system. For the future, they wish to use more channels for communication such as chats, videos (e.g. video authentification), cognitive computing (computer learns and can therefore answer questions) etc. At the moment, the digital identification is still a problem. As we already learned this week the "Bürgerkarte" goes in this direction. At the moment they also work with an online platform to get feedback and ideas of their citizen: www.e3lab.at.
A new law in Austria gives the citizen the right to communicate digital with all governmental institutions. Due to this an innovation pressure exists which is necessary to adopting it into the law. Furthermore, service platforms like help.gv.at exist. These platforms were only information platforms, but they evolve into platforms for interaction e.g. "eGründung" for the incorporation of legal entities.
We discussed also the problem of privacy protection. There is a conflict between higher service quality and supervision of the citizen. The government tries to provide a good service through automatic exchange e.g. between Nonprofit Organisations and the tax office with regard to donations made. Such new approaches lead to discussion about privacy and data security.
After the interesting discussion we had a guided tour through the wonderful building "Winterpalast des Prinzen Eugen".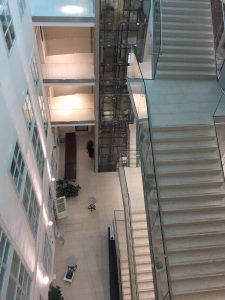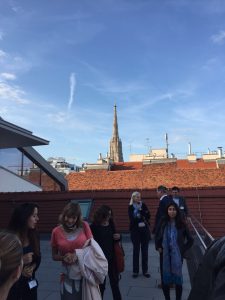 At the end of the 4th day our study group enjoyed a social dinner at "I Ragazzi". The food was delicious and we ended our day in a relaxing atmosphere.