Introduction
Study Trip to the Middle East
Date: 31.03.2017 – 08.04.2017
Destinations:
Name of class: International Executive MBA 2016
Number of students: 13
Name of SML representative: Khaldoun Dia-Eddine
Day 1
The day has come: the IEMBA class of 2016 is visiting the Middle East.
The whole gang has gathered near gate 67 at Zurich airport. The boarding of the Emirate A380 flight to Dubai began at around 21:40. Already this was a new experience for some members, since they never have flown with such a huge commercial flight vessel.
The flight was in general smoothly, next to the very rare and small turbulence. Arriving in Dubai we had to wait for four hours to board our connecting flight to Riyadh. Since it was a overnight flight and most people barely were able to sleep, we used the excessive free time to replenish our energy by eating and drinking beverages contains lots of coffin.
The duty free section was rather small and underwhelming. The most exiting part was probably when Mike managed to carry around a half opened Coke Zero glas bottle which was stored in a paper back, which dripped all over the airport floor for at least 30 meters before he even notices what was going on. At least we were able to see the efficiency of the Dubai people at hand, since it did not even take five minutes till there was at least three "wet floor" shields place around the small debacle.
The Saudi Air flight to Rijadh, the capital of Saudi Arabia, took us 2 hours. This went without any kind of problems and we all arrived safely at the airport. Just stepping out of the plane already displayed how vast some of the architecture structures are when we walked by the airport fountain.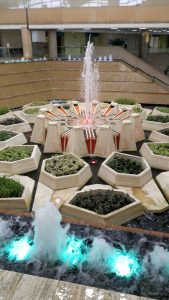 While waiting for our taxis, several class mates tried to obtain some of the countries currency. Seemingly confused we thought that about 5000 Saudi-Riyal is worth 300 Swiss franc. So some decided it would be a good idea to get about 2500 each. A quick google search, of course after we already held the money in our hands, we realized that the 5000 combined are not CHF 300.- rather more than CHF 1200.-. Quickly using our learned skills during the EMBA classes, we mitigated our risks and sold some of the overstock in Saudi-Riyal bills to other members of the group.
Arriving at our hotel Al Khozama most of the people tried to get their room key quickly and take a quick nap and a shower. Our leader Khaldoun offered a museum visit at the National Museum for anybody who is interested. Most of the class participated. Seeing the museum showed again the grandeur of Saudi Arabia. The whole group gathered in front of it before entering: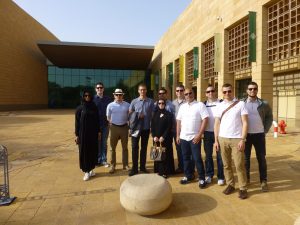 For the quick people it easily took about 1 hours and 15 minutes to finish the whole tour. The last group, spearheaded by our dear Khaldoun itself, was for nearly 2 hours in there. If you are interested in Middle East culture and have the chance to visit Saudi Arabia, you surely have to drop by at the National Museum in Rijadh. I am sure every member of the class learned something about this country in there, that he did not know before. The range of information is huge. The following pictures show a set of details brochures which show the theme which was focused heavily in the different kind of sections at the museum.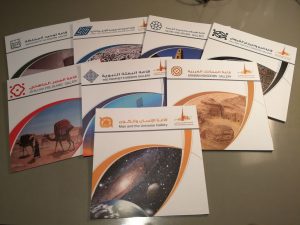 The majority of the group is getting hungry and we were returning to the hotel to have a small feast around 19:00. Compared to the China study trip in October 2016, the buffet this restaurant provided was sufficient for every single person. I do not think that there was anybody not satisfied at the end of that dinner. Even though this gave a small energy boost, for most people it was not enough and a good night sleep is ahead of us for the interesting day 2.
We are looking forward to the visit of the two companies Alinma Bank and Alfanar Group.
Day 2
The second day of our study trip started with a nice breakfast buffet at the hotel and a short briefing from our host Mr. Larbi Elttari from the Embassy of Switzerland about the upcoming days in Riyadh.
We were picked up by a bus which brought us to our first company visit Alinma Bank. A young and innovative bank with a tremendous growth. We were hosted by the six very senior executives, including the CEO of one of their investment branches. Getting some very interesting insides about the banking system in Saudi Arabia itself and our hosts gave us also the chance to get some general information about economy and what kind of difference there is compared to the western world.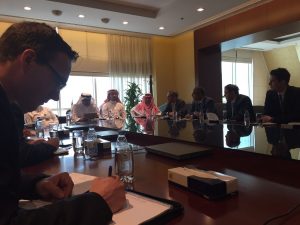 One of the major difference would be the sharia-compliance which have to be considered in their banking. For example: in Europe when we lend money, the bank receives interest to cover the risk and of course make a profit in the end. With the sharia-compliance, you are not allowed to take in interest in such a matter. Their lending system is more like leasing a car: they buy the product and you pay them back. In the end their risk management is different in that matter than ours, since they are not able to cover their losses through interest rates and they have to vet carefully with who they make their deals. In general the class was extremely surprised about the transparent communication and the openness on which we were received. We were able to ask any kind of questions. They also had strong sarcastic and humorous remarks in a very witty way. It was the perfect start for our study trip.
The second visit took place at the electric industrial manufacturer Alfanar. We had a very warm welcome with "Arabic coffee and sweets". After a short company movie we were pleased to walk through their whole production line which they have in based in Riyadh. For our engineers that was a field day and they were comparing it to their own field and experience. Our ABB guy Marek assured us, that they have a strong focus on quality. It seems not only he was interested in the different kind of production sights.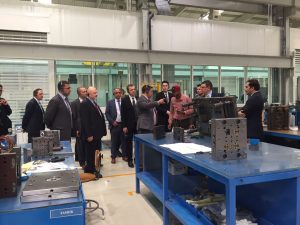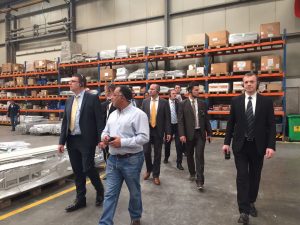 Some of us found it even so interesting, it seemed they did not want to come back with us and almost missed the departure of the bus.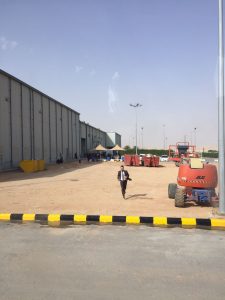 When we arrived back at their headquarters we were pleasantly surprised with a late lunch. Their employee dining room was set up nicely and we even received non-alcoholic wine. The food was tremendous: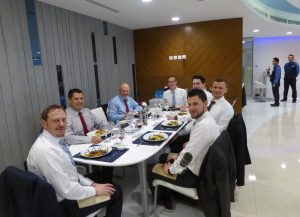 We were split up in two small groups and one was able to talk with Larbi Ettari to get some more insights about Saudi Arabia and the other one sat with Kahldoun and also talked about the first two companies and how interesting both visits have been.
As a closure of the evening, we were heading to an all authentic Arabian restaurant. Luca Urech from the Swiss embassy was accompanying us again. He also brought somebody from the Alinma Bank with him (nobody from the mornings meeting). The dinner was served and the dining experience was a first for many.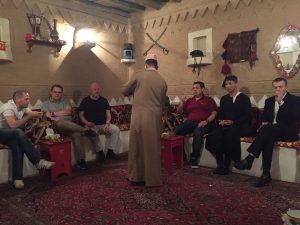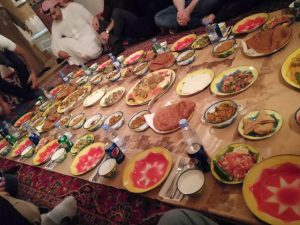 The class in general agrees on one thing: this was a great start to the study trip and we all hope, that the visit continuous to be so inspiring and interesting in the coming days.
Thanks for reading.
Authors: Sabrina, Marek & Mike