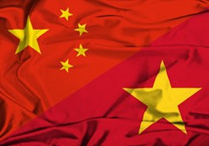 China is situated in Eastern Asia on the Western shore of the Pacific Ocean and encompasses an area of 9.6 million square kilometers. China's continental coastline extends along 18,000 kilometers, and its vast sea surface is studded with more than 5,000 islands. More than 1.4 billion people live in China. In 1949, the Communist Party of China established the People's Republic of China.
Thanks to its reform and opening-up policy in 1978, China has become stronger and stronger in economy, science and technology. The nation's economy has been growing rapidly. China's economy is gradually shifting from a merely production-oriented to an innovation-led economy. Thus, the Chinese markets will continue to open up and Chinese companies will internationalize as Western companies will explore China as a future market and supply source to an even greater extent.
China is the world's largest manufacturing economy and exporter of goods. It is also the world's fastest-growing consumer market and second-largest importer of goods. China is a net importer of services products. It is the largest trading nation in the world and plays a prominent role in international trade and has increasingly engaged in trade organizations and treaties in recent years. China became a member of the World Trade Organization in 2001. Major projects such as the Belt and Road Initiative are testimonial to China's long-range plan to play a pivotal role on the geo-political world stage.
Vietnam is the easternmost country on the Indochina Peninsula in Southeast Asia and is bordered by China to the north. 96 million people live in Vietnam. Its capital city is Hanoi.
Vietnam was part of Imperial China for over a millennium, from 111 BC to AD 939. An independent Vietnamese state was formed in 939.The nation expanded geographically and politically into Southeast Asia, until the Indochina Peninsula was colonized by the French in the mid-19th century. Following a Japanese occupation in the 1940s, the Vietnamese fought French rule in the First Indochina War, eventually expelling the French in 1954. Thereafter, Vietnam was divided politically into two rival states, North and South Vietnam. Conflict between the two sides intensified in what is known as the Vietnam War. The war ended with a North Vietnamese victory in 1975.
Vietnam was then unified under a communist government but remained. In 1986, the government initiated a series of economic and political reforms which began Vietnam's path towards integration into the world economy. By 2000, it had established diplomatic relations with all nations. Since 2000, Vietnam's economic growth rate has been among the highest in the world. Its successful economic reforms resulted in its joining the World Trade Organization in 2007.
Students in their final semester at the ZHAW School of Management and Law (SML) embark on this study trip to China and Vietnam following attendance of the seminar "Doing business in Emerging Markets". The objectives of this study trip are:
Experience the Chinese and Vietnamese way of life through real on-site exploration
Explore the cultural heritage and learn how to integrate the findings into doing business in emerging markets
Understand the economic thrust of China and Vietnam and its neighboring countries
Learn the first steps to expand one's individual business network beyond Switzerland
Expand the horizon for a future professional career.
My heartfelt thanks goes to all organizations, companies and business partners in China and Vietnam who generously invited our SML student group. We deeply appreciate your support.
Moreover, I would like to thank the entire student group who co-organized this trip and in particular the core organizing team Fredrik Rüegg (CEO), Jasmin Schleeh (CTO) and Nicola Zimmermann (CFO). We are all looking forward to this no doubt rewarding and memorable journey.
Best wishes
Dr. Markus Braun
ZHAW School of Management and Law / Zurich University of Applied Sciences